Since the 2020 election a great deal has been written about information, disinformation, and misinformation. Very little attention is being paid to the newest threat in the information wars––omission of the year in online posting dates. We live in the 21st-century age of digitized, computerized information technology. In the beginning, articles posted online followed established journalistic practices, and journalism's classic 5W + H formula. Articles answered six questions: Who? What? When? Where? Why? How? Today, online journalism is eliminating the When. I began asking the question, Why?
For print journalism, the When has two components––the dateline and the actual events described in the article. The dateline refers to when the story was filed or written, not necessarily the dates of events described in the article. Datelines followed the month/day/year date convention, and appeared on the first line of an article before the text.
In online reporting, especially blogs and websites, the dateline often refers to the posting date. In the summer of 2022, I began noticing the year was MISSING in the dateline. Sometimes the date was presented as an equally useless and ridiculous "3 hours ago" or "3 days ago." At first I assumed it was a typo, but soon realized there was a change to the default date convention. As a writer, researcher, and political analyst, the change was so egregious, I assumed the new date conventions had to be a form over content esthetic decision, made by the same foolish designers who decided hard-to-read gray font was superior to easy-to-read black font! I was wrong.
I lodged my first complaint directly with WordPress, on June 4, 2022. WordPress is a free and open-source content management system used by 42.8% of the top 10 million websites as of October 2021. The message read:
I am a researcher, author, and political analyst. It is absolutely maddening that articles are being published with a date that does not include the YEAR. Every event happens in its historical context. "3 hours ago" or "3 days ago" or "3 months ago" is meaningless without the year. Equally meaningless is "April 10" if the article has been saved and used for reference two years after publication. Information is rendered useless without an accurate posting/publishing date that MUST include the YEAR. Please address this extremely exasperating error on all the platforms you service - the problem is becoming ubiquitous.
WordPress.com is the hosted version of WordPress. Its customer support "Happiness Engineers" answered:
Hi there,

Your support request has been submitted to our team of Happiness Engineers. Rest assured that your email arrived safely and our support team will be in touch as soon as we can.

If you have any new details, or happen to find the answer yourself in the mean time, just reply to this email directly to keep us updated. Additionally, you might want to check out our daily webinars - https://wordpress.com/webinars - and our support documentation - https://wordpress.com/support.

Thank you for your patience and we'll be in touch soon!

- The WordPress.com Support Team

This email is a service from Automattic.
I immediately noticed the name Automattic at the bottom of the annoying touchy-feely Happiness Engineer team response. I looked into it and discovered Automattic owns WordPress, and is the WordPress platform designer. So, I sent Automattic customer service the same complaint the same day. Saif H. (Automattic) responded:
Saif H. (Automattic)

Jun 4, 2022, 12:01 UTC

Hi there,

Thank you for reaching out.

We can't forcefully show the dates of all posts as this is up to the site owner. The default blog page of WordPress.com sites does show the date of the post with its year, you can check this screenshot of my test site as an example → https://snipboard.io/93hdQD.jpg

With that said, some themes don't offer that option by default in which case we do have a custom block the site owner can add to their posts named Post Date block to solve this.

You can read more about the Post Date block here: https://wordpress.com/support/full-site-editing/theme-blocks/query-loop-block/#post-date-block

Please let us know how can we assist you further.

Best,

Saif H. - WordPress.com Support | Automattic

This email is a service from Automattic.
Automattic asked me to rate their customer service, on June 7, 2022 I sent the following message:
Saif's customer service response was polite, but there is no acceptable reason for WordPress not including the year in posting dates as the DEFAULT setting. Journalism, the activity or profession of writing for newspapers, magazines, or news websites including blogs REQUIRES an accurate date that includes the year. This is so fundamental that I don't  know why it is necessary to have this debate. If someone somewhere decides that posting an accurate date with the YEAR is unimportant, let that client go through the steps to remove it - not the other way around! I wonder sometimes if the web designers at WordPress are so young and live their lives so in-the-moment, they have no idea how important this issue is.
WordPress.com is the largest WordPress installation in the world, and is owned and managed by Automattic, Inc., founded by Matt Mullenweg. The double "tt" in Automattic is not a typo, it is a play on its founder's name. The top three institutional investors in Automattic are Vanguard, Blackrock, and State Street Capital.
My experience with WordPress/Automattic mirrored my experience with Substack, the "alternative" platform for authors with opposing points of view. I sent the same complaint to Substack when I began reading the below article. In what year did the stunning defeat happen in???? The absence of the year violates every principle of legitimate journalism. My complaint received a similarly patronizing response from Substack.
On June 3, 2022, I sent this message to Substack:
PLEASE PLEASE PLEASE date every article and posting with a complete date including YEAR!!! I am an author, researcher, political analyst, who is acutely aware that every newsworthy event occurs in its historical context. Labeling an article "3 hours ago" or "3 days ago" or "May 29" is MEANINGLESS, and renders the information meaningless and irrelevant. I cannot stress this enough. Journalism cannot be considered journalism without an accurate date for events, and analysis of those events. Adjusting your dating convention is a simple solution to a massive problem.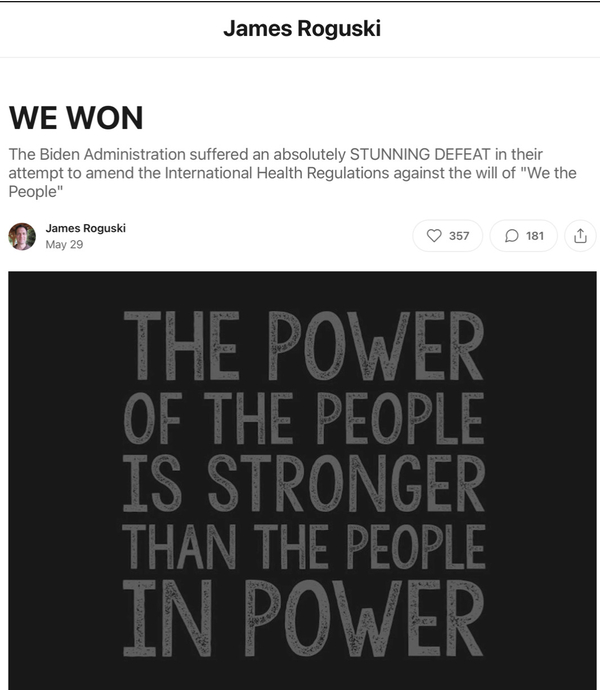 Georgia from Substack (Substack, Inc)
Jun 3, 2022, 5:05 PM EDT
Hi Linda,
 
Georgia from Substack Support here. Thanks so much for reaching out and taking the time to share your thoughts with us!
We'll be sure to pass your feedback along to the appropriate team. We're always looking for ways to improve, so we appreciate the note.
 
In the meantime, be sure to keep an eye on our blog for any updates and please let us know if there's anything else we can do to assist.
 
Kindly,
Georgia
Substack Support
Then Substack asked me to review their customer service. I responded with the following message on June 5, 2022:
Substack's response, "We'll be sure to pass your feedback along to the appropriate team. We're always looking for ways to improve, so we appreciate the note." This is monumentally placating, certainly not a resolution. If Substack is truly looking for ways to improve, it would acknowledge the seriousness of date conventions, and set its template to include the year in the posting/publication date as the default setting. That is a resolution.
I tried again on July 6, 2022. My civilized mind was having great difficulty processing that the new posting date convention deliberately omitted the date:
I am a subscriber, a researcher, a writer, and a political analyst. I cannot stress enough the importance of proper and accurate posting dates on any and all information/articles. Substack presents itself as an alternative platform and archive for writers and bloggers. Journalism is time sensitive, and it is ESSENTIAL that Substack label materials with posting dates that include the YEAR!! Information with incomplete dates like Dec 9, or three hours ago, becomes useless and irrelevant without the year. This absurd posting convention is becoming ubiquitous and, unless it is a deliberate effort to confuse the public and make materials irrelevant, what is the point??? Please give this important issue your immediate attention, and make Substack the leader in relevance by including the YEAR in any and all posted materials.

Most sincerely,

Linda Goudsmit
Bruno answered promptly on July 6, 2022:
Bruno (Substack, Inc)
Jul 6, 2022, 7:21 PM EDT
Hi Linda,
 
Bruno from Substack Support here.
 
I'll be sure to pass your feedback along to the Product team for discussion.
 
Other writers may have similar feedback– if you're interested in connecting with them, we recommend attending an upcoming Writer Office Hours or checking out our Writer Resources for inside tips and expert advice.
 
Again, thanks for sharing this note with us!
 
Best,
Bruno,
Substack Support
I answered Bruno the next day, July 7, 2022:
Hi Bruno,
Thank you for your prompt reply.
I am a writer who would NEVER consider posting on Substack until the posting date convention is corrected to include the year.
I have spoken to many writer friends and colleagues, and I have posted several editorials about the missing year, and was shocked by the reader response. So many have the same frustration! Honestly, I don't even know why this is a controversial subject that needs to me discussed by the Product Team. It is a serious journalistic error that needs to be corrected - immediately. Plus, every posted article since Substack's inception needs to be corrected by going back and posting the year.
Most sincerely,
Linda Goudsmit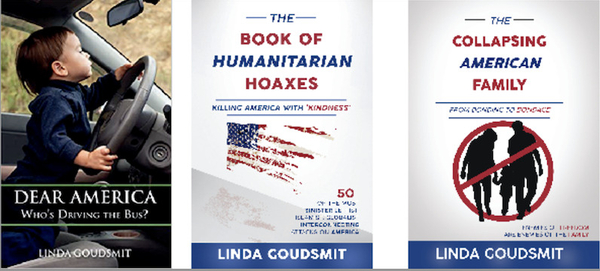 Incredibly, Substack asked me to evaluate their customer service. So, I did. On July 9, 2022, I sent the following message:
Talking about an issue, and resolving an issue, are two distinctly different things. Unless Substack changes its absurd posting convention of posting articles with a date that does not include the year, the issue is not resolved. I honestly am shocked that Substack did not simply say, "Thank you for bringing this to our attention, we will correct the error immediately." I cannot say this in strong enough terms, "Journalism is DATE SENSITIVE!" An incomplete date like June 3 is ridiculous, and it is a journalistic error of epic and lethal proportions!!!!!
After that, I started contacting authors I subscribe to on Substack directly. Even though Substack is considered the "alternative" platform for writers expressing alternative political and philosophical points of view, the authors were similarly unconcerned! That is when I started following the money, and now I am convinced the ubiquitous online convention that omits the year, is intentional.
Substack, founded in 2017, according to its own website, is based in San Francisco and backed by institutional investors Andreessen Horowitz, Y Combinator, Fifty Years, and other great investors. Sam Altman, CEO of globalist corporation OpenAI co-founded with Elon Musk in 2015, served as president of Y Combinator from 2014-2019. Under Altman's leadership, OpenAI received a $1 billion dollar investment from globalist/transhumanist/eugenicist Bill Gates.
It is my opinion that Substack is a colossal bait and switch. Authors are invited onto this "alternative" platform with its profitable fee-based subscription option, but the posting year is omitted as the default setting. It appears the globalist institutional investors in online platforms, are making it intentionally difficult to accurately research subjects with alternative views, and are simultaneously monopolizing and curating the distribution of information.
In the short view, political analysts on Substack and WordPress platforms believe they have marvelous, profitable platforms for their views. In the long view, omitting the posting year makes their information confusing and irrelevant, and helps the institutional investors eliminate information that opposes their globalist agenda and corporate interests, whether in medicine, politics, education, the economy, etc. etc.
The social engineers driving the war on America and on humanity are sociopaths and megalomaniacs. They are skilled strategists, and omitting the posting year is a significant tactical maneuver in their overall strategic plan. The seriousness of omitting the year in posting dates cannot be overstated. The omission compromises the material so that researchers cannot state with certainty the facts to make a case in opposition to current, approved political narratives. Without an accurate reference, the omission creates a political vacuum for validating information. If the schemers prevail, the Great Reset will not only reset the economic clock to zero. It will also reset the historical clock to zero. The globalists will have total control of the information past, present, and future. GAME OVER.